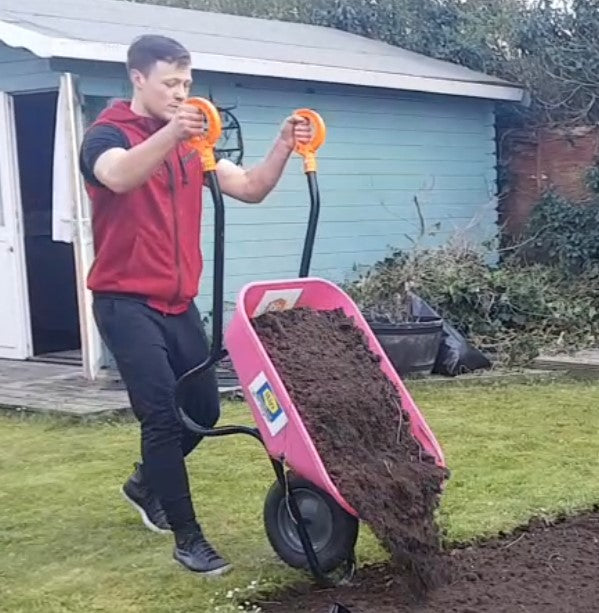 A set of revolutionary iTip Handles in a selection of different colours.
iTip® Handles are ergonomically designed handles for devices such as sack trolleys, roll cages, wheelbarrows and hand cleaners. They reduce back and hand injuries, safety and ease of use when manoeuvring and tipping. 
The hands are one of the most at-risk parts of the body during manual movement. Large, bright iTip Handles will reduce injuries from accidental catching and crushing. The chances of losing grip are very much reduced.

iTip Handles will not slip off and remain at a nice even temperature during hot or cold days. They are also an advantage if it is not possible to turn the manual handling device around providing the ability to pull from a solid grip.
It takes minutes to attach the iTip Handles the first time and then seconds to remove and clean when necessary. They come complete with a set of easy-to-fit shims in 4 sizes to allow fitting on existing manual handling devices with tubes from 32mm down to 24mm.  The box contains everything you will need to fit them from four self-drilling/ tapping screws, a pilot drill bit and a driver bit for your cordless screwdriver*. (*screwdriver is not supplied).
Match your iTip Handles to your equipment. We have lots of different colours available and if you have a requirement for a mix of colours let us know.   
Commercial customers, please see the separate high-visibility version!
We will endeavour to make sure yours arrive quickly so you can take full advantage of the safety features of iTip Handles as soon as possible. Please send us a picture/ video of your iTip Handles in action and tag us on all the social media channels using @iTipHandles. Thanks, and enjoy!