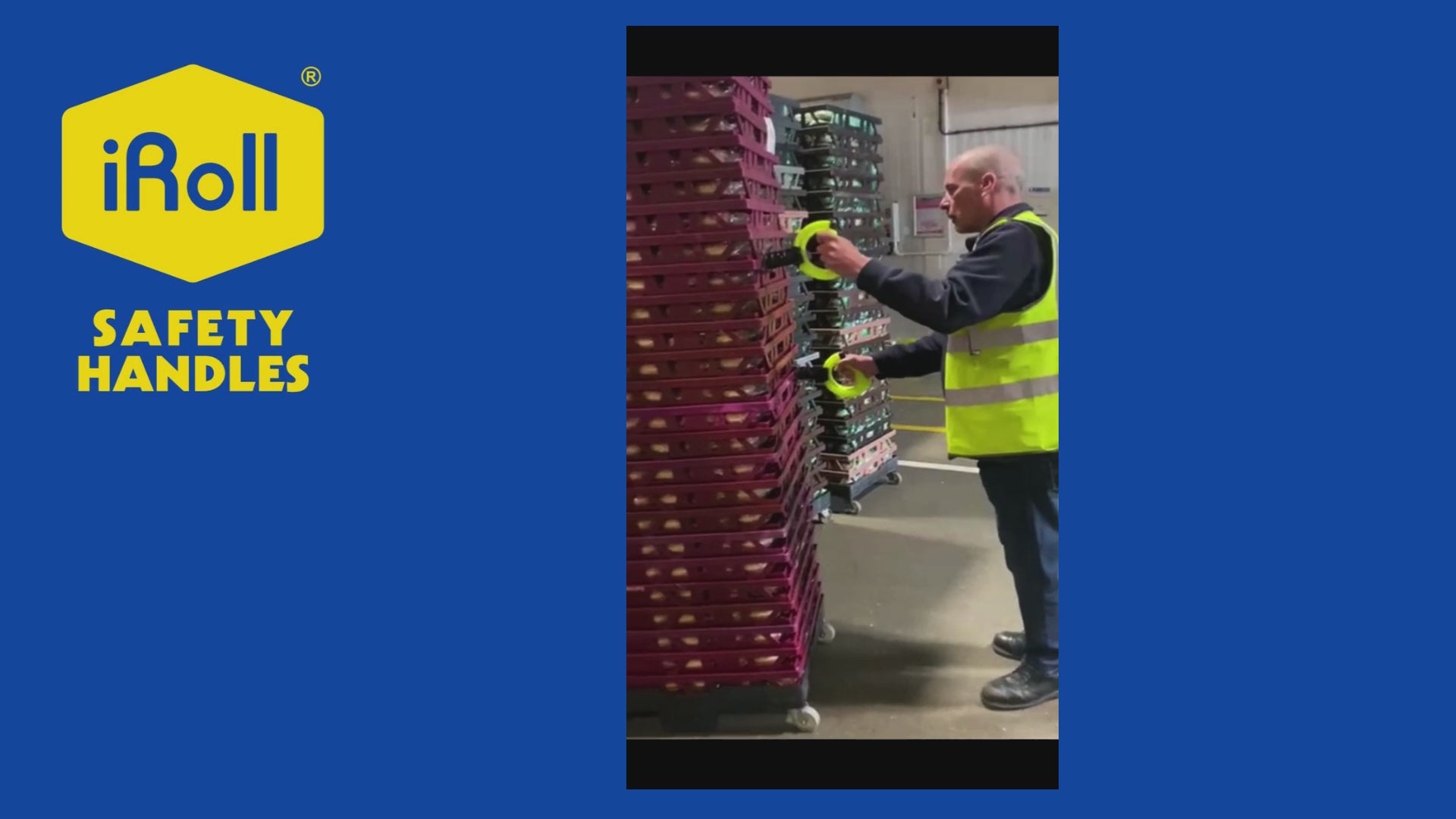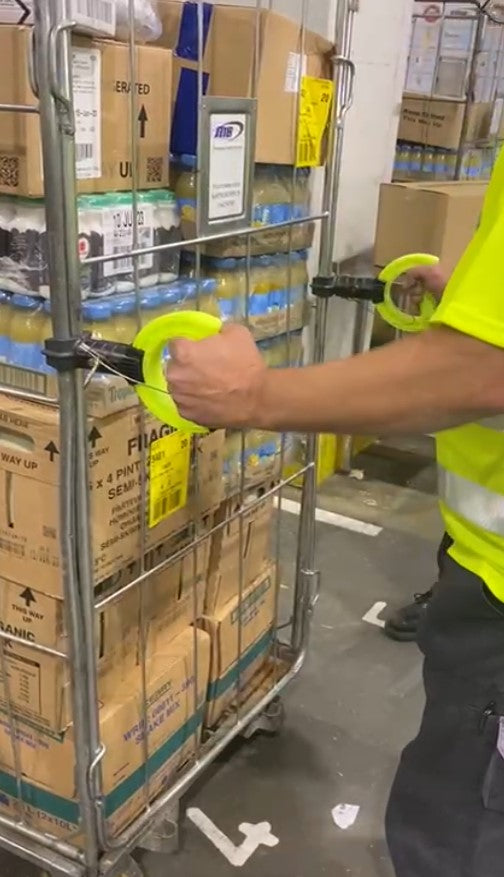 Up to a third* of accidents are roll cage related.
Cages are designed for moving objects, not for human handling. This is why companies using roll cages have found that up to a third of their accidents are roll cage-related (*HSE report below). Cages are intended for transporting goods within warehouses, storage, distribution, and the food and drink industry until they reach the retailer's shelf. However, they require users to remember their training when handled, offering minimal protection and comfort. Injuries that could result from a roll cage trolley accident include:

- Head or brain injuries
- Musculoskeletal injuries such as sprains and strains
- Broken bones
- Soft tissue injuries
- Loss of a limb
- Psychological injuries, such as anxiety or depression.

We have developed iRoll Safety Handles to enhance training or eliminate dangers altogether. iRoll Safety Handles significantly improve user safety. After completing a delivery, simply remove iRoll Safety Handles. Then put back on for further safe movement. Depending on the environmental requirements, you can use either a weld connector or an iRoll jaw.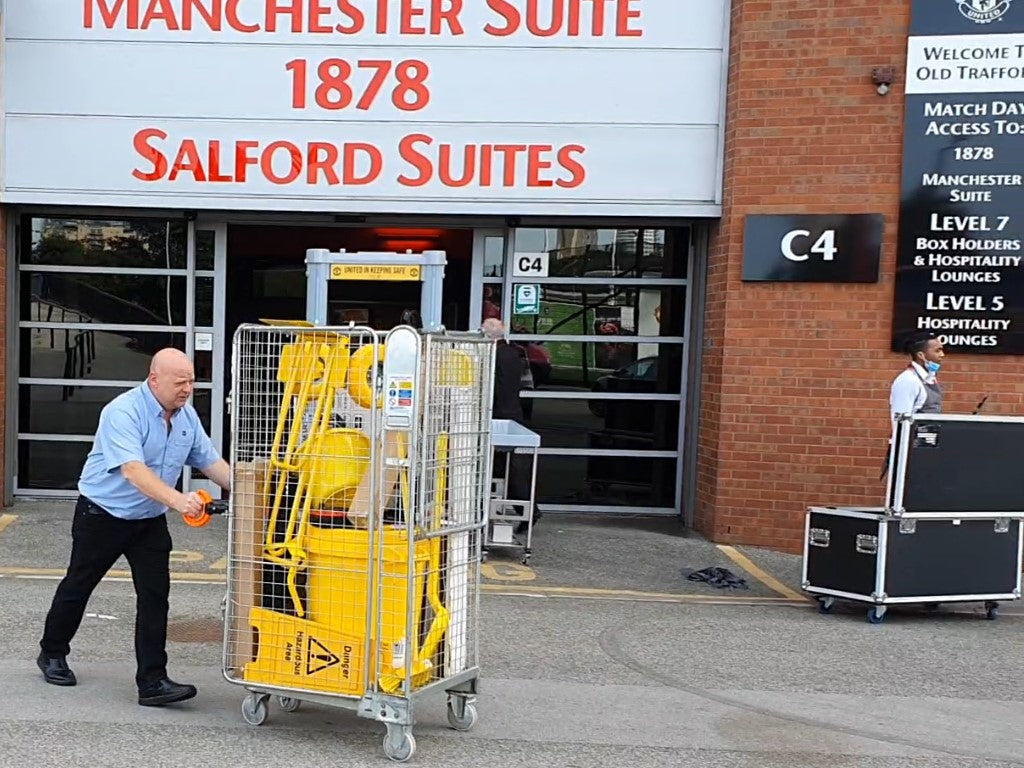 iRoll from Safety Handles
Roll ergonomic Safety Handles are high visibility, ergonomic rotating handles that can be attached to a roll cage. They re-enforce and supplement training for many of the potential injury situations arising from roll cages.
These include;
1. Handling roll cages from the correct side, making sure the coasters move in the correct direction. Once iRoll Safety Handles are fitted, the direction of travel is obvious.
2. Fitted iRoll Safety Handles mean the employee is always controlling from the correct height for the cage (specified by the HSE*). This reduces the chances of the cage toppling over on them or a colleague.
3. Holding iRoll Safety Handles means fingers are outside of the cage, removing potential cuts and finger injuries from holding the cage itself.
4. iRoll Safety Handles add distance. Toes are well away from the wheels reducing the chance of the user running over themselves and breaking foot bones.
5. Bright large handles signal controlled operation, whilst also highlighting to colleagues where the user's hands are in situations where multiple tasks could cause crushing.
6. A solid wide ergonomic handle reduces the chance of losing grip. It is also useful for arthritis sufferers.
7. The angle is automatically adjusted by iRoll Safety Handles to reduce back and wrist strain, whatever the user's height, using ergonomics.
8. Provides the platform for a valid RAMS statement.
9. The ability to execute a virus spreading reduction strategy. By allocating a set of iRoll Safety Handles to a user they can attach to the roll cage as required. They can be suspended from a belt connection and at the end of the shift, sanitised and kept in lockers. This reduces PPE requirements and the touching of common equipment between users.
10. They are quickly interchangeable and can be colour coded for operational control.
11. Maintenance is very low, just the occasional use of a silicon spray in the rotation mechanism. The D handle sections are easily removed for washing/ sterilisation.
12. iRoll Safety Handles provide user comfort, all surfaces are thermo neutral to touch on a hot day and coming out of a fridge unit they are not cold.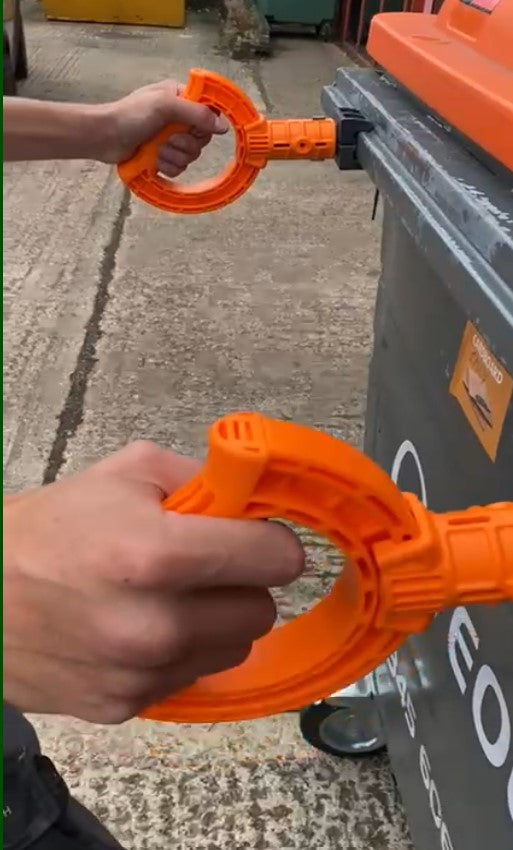 Bespoke Safety Handles
Safety Handles offers a specialized bespoke service that caters to a wide range of industries and applications, from the safe handling of stacked wobbly bun trays (video above) to the critical task of moving hospital bin's containing contaminates.
With an unwavering commitment to safety, their innovative solutions are designed to reduce the chance of injury, handling infected surfaces and reducing waste through spillage.
Please contact directly (see the form below) with your requirements.
It shows you care for your colleagues
The Health & Safety Executive (HSE) keep a set of iRoll Safety Handles on a roll cage at there Buxton HQ to show how manual handling aids can make a difference in safety.
They have been tested by a Tesco's employee to take 500Kg of weight!
Contact Safety Handles
Please give details on your roll cage or bespoke cage requirements